Whilst we are all at home during the coronavirus outbreak, its a good time to start doing your potential new metal detecting site reasearch.
This guide should give you enough hints and tips, to put you on the right path to very productive metal detecting sites.
Locating possible sites and research using Google maps.
If you are not a fan of the new Google Maps, in just a few taps, you can revert back to the previous version and forget that the new Maps ever happened. You can read our guide here.
Sometimes you simply can't beat a good bird's-eye view of a potential site. It allows nothing to escape the eagle eyes of archaeologists or metal detectorists.
Using google maps for aerial photography, you are able to discover whole archaeological landscapes instead of a single site at a time, also seeing how they're linked together, can help you understand the history of these sites in new ways.
Taking it a step further and using aerial drones when visiting these sites can help you see the layout of your site, and identify areas of interest that may not be visable from ground level.
This type of survey technique has helped archeologists and metal detectorists understand these sites in more detail. Here are a few examples below:

Iron Age or Roman settlement – Comberton, Cambridgeshire
The marks carved into the clay are caused by buried archaeological remains absorbing moisture from the soil. These crop marks reveal tracks leading to ditched enclosures, some with circular houses, from an Iron Age Roman settlement.

Neolithic mortuary enclosures – Stoke Hammond, Buckinghamshire.
This capillary-like network is a mixture of human-made and natural imprints. The two long, capsule-shaped marks are examples of Neolithic long mortuary enclosures, one of the oldest types of monument in Britain. Dead bodies may have been placed in these before burial. Others marks are natural ones left in the gravel during the last ice age.
Crop marked Sites
Crop marks (or better – vegetation marks) are an indirect effect of buried archaeological features. Their visibility depends on soil, climate and vegetation.
During a dry summer, the water content of the soil vanishes, and the plants would need more water, than is available. There is a so called Soil Moisture Deficit (SMD). Plants are reacting differently on a SMD. Some start to wither, others grow at a lower level. But mostly, they try to bury their roots deeper, to eventually get more water from lower soil levels. Since the refillments of archaeological features can mostly store more water, the plants growing over them will have more water resource. This will make them grow higher and ripen later than the plants around them ("positive marks").
Positive crop marks can be seen from the air (and also from the ground) in two ways. The plants over them will stay green for a longer period and will have a darker green, producing a tonal contrast. Additionally, these plants will grow higher. Usually the height difference is not too big, but it is enough to throw a shadow in slanting sunlight.
As you can imagine, the opposite will take place with plants over buried walls: plants will run out of water soon; they will ripen earlier and stay shorter ("negative marks").
Almost any crop can develop marks, if conditions are well. Cereals, as wheat and barley, are especially suitable. They are reacting fast on a SMD and, what's also important, they are growing very close, which provides us with highly detailed marks.
Crop marked sites are mostly recorded from May to July. If it is dry, winter crop can develop marks already during early spring.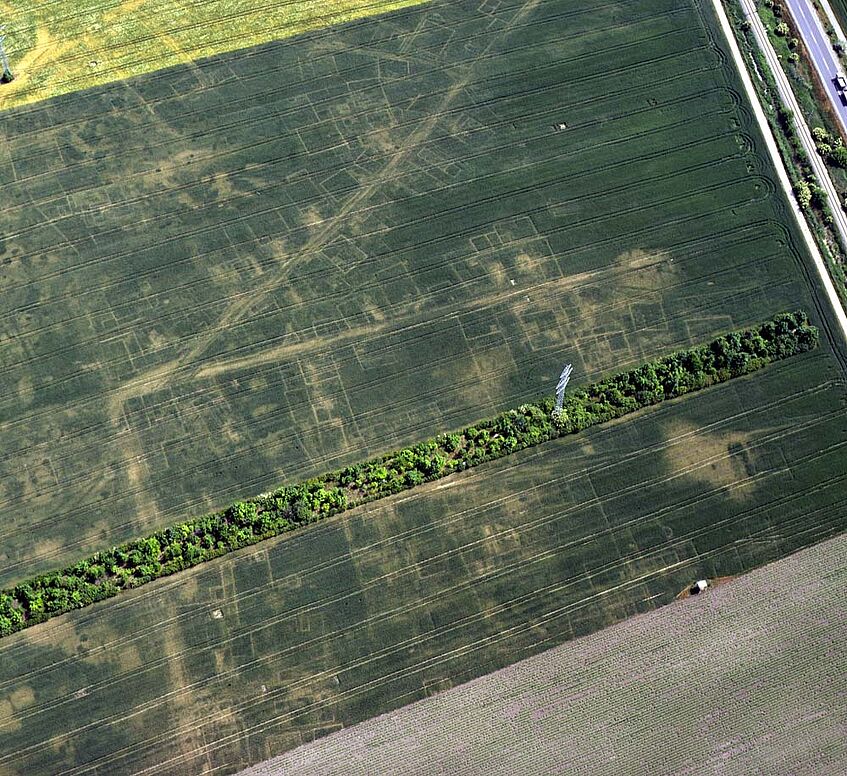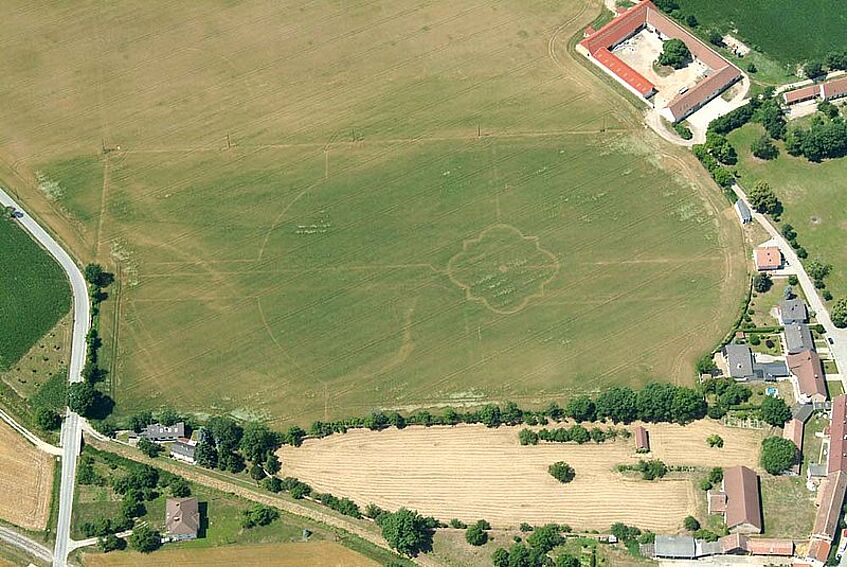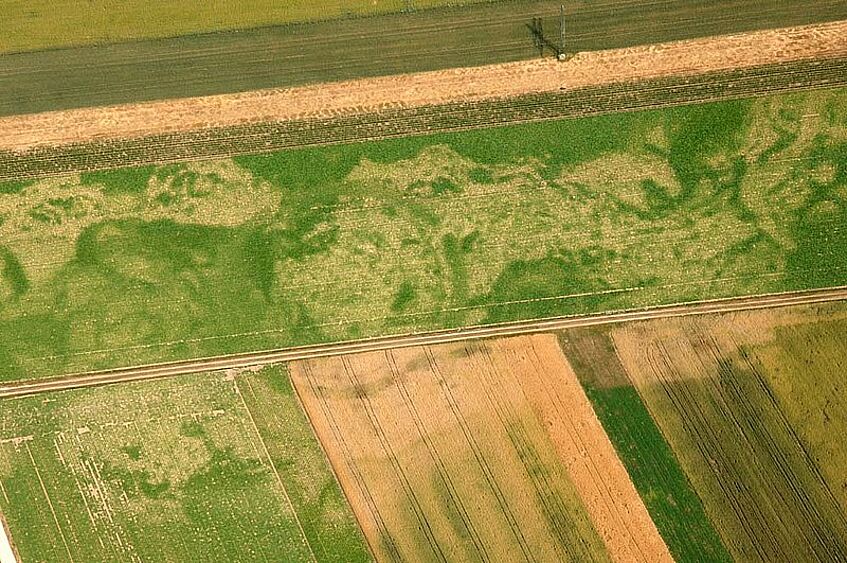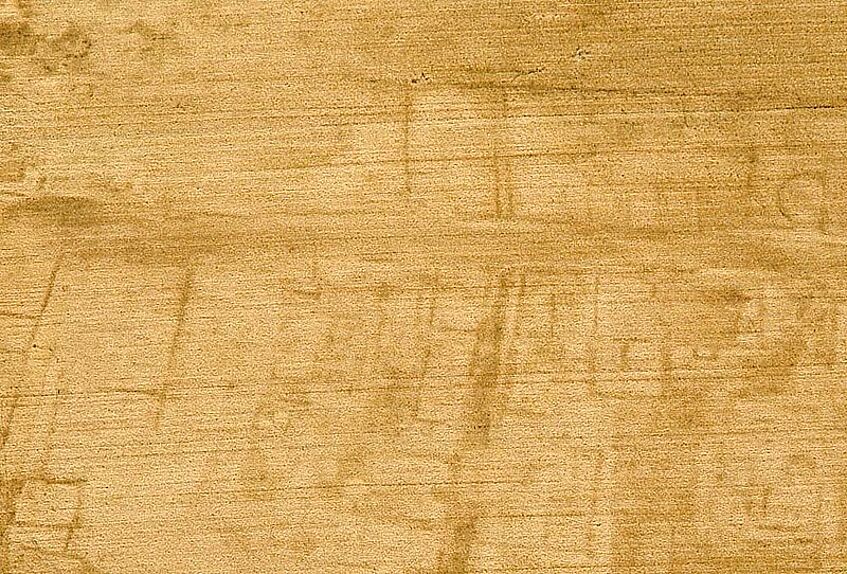 The picture above shows the square barrow cemetery at Arras, in East Yorkshire. Here, burials were placed on the ground and a mound was built over them with soil dug out from a surrounding ditch. The barrow ditches show as green squares. Dating from the Middle Iron Age, probably around 300 BC, this site gave its name to the internationally recognised Arras Culture of East Yorkshire.

In Clumber Park, in Nottinghamshire, the shape of a vanished mansion, complete with internal corridors and a sundial in the garden – reappeared in July. In 1707, Clumber Park was enclosed as a deer-hunting ground for Queen Anne, and for the following two centuries it was the home of the Dukes of Newcastle, a procession of politicians and gamblers. The thirty-eight-hundred-acre estate reached its height in the first half of the nineteenth century, under the fourth Duke, who planted the longest avenue of lime trees in Europe and kept a forty-ton frigate, the Lincoln, which he liked to sail on the park's artificial lake. In 1838, the Duke spent three hundred and seventy thousand pounds – the equivalent of around forty million pounds today – to buy the Duke of Norfolk's house, Worksop Manor, three miles away, and blow it up. His own seat, Clumber House, suffered two fires, in 1879 and 1912, and was demolished just before the Second World War. The park now belongs to the National Trust.
Using Old Maps
Sometimes using old maps can point you in the right direction to successful detecting. Our Victorian ancestors were great at telling you where to find treasure, as you can see below on one of my sites.
You will find this website very useful for historic maps by clicking on this link old maps.
The Gough Map is internationally-renowned as one of the earliest maps to show Britain in a geographically-recognizable form. Yet to date, questions remain of how the map was made, who made it, when and why.
The oldest surviving map of Britain has been digitally released into a Google style interactive map.
Lidar
Lidar is a surveying method that measures distance to a target by illuminating the target with laser light and measuring the reflected light with a sensor. Differences in laser return times and wavelengths can then be used to make digital 3-D representations of the target, and in most cases highlight things on your potential site that you never knew were there.
LiDAR stands for "Light Detection and Ranging." A LiDAR system works in a similar way to sonar or radar by "sounding" light against a surface of interest.
Not all of the UK is covered by Lidar survey data, as you can see from the map below, the lighter areas are currently the only parts that have been surveyed.
Lidar mapping has been around for many years, it will appeal to many metal detectorists as it is now becoming a very important method of unlocking hidden parts of our history, here are 2 links to the most common lidar sites that you will hear people talking about.
Alternatively aerial survey company Bluesky, UK, has launched a comprehensive online Lidar map of the UK. It covers approximately 75% of England and Wales, including all major towns and floodplains, plus areas of Scotland. the link to them can be found here.
I hope this guide has given you some good advice that will assist you in your site reasearch, please feel free to join our Facebook group.
Also please like and share this post. Thank you.